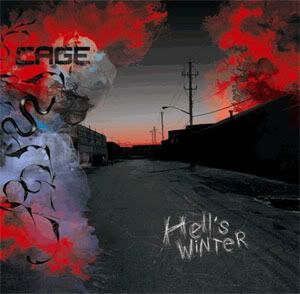 Cage
–
Hell's Winter
(Def Jux)
This is something of a signature Def Jux album. There are apparently numerous producers featuring on this HipHop album, but it has a very traditional (if that term can be used for such bruising, claustrophobia-inducing, low-bitrate texturing) El-P sound to it. I have been informed that DJ Shadow produced a track, but smooth, poignant
Endtroducing…
this is not.
This is, however, a very political album. Cage rails against the machine of the government, as well as dissing 'deadbeat dads'. Jello Biafra guests on 'Grand Ol' Party Crash' with what should be an amusing impersonation of George W. Bush, but which actually turns out to be slightly embarrassing. There is something of the drunk uncle at a wedding in the usually killer Biafra's attempt at making like Rory Bremner. As if one wasn't enough.
This works as a whole, though. Like the
CYNE
album, this is good but in no way a classic, and as such finds much company from 2005. This is definitely not the second coming of Cannibal Ox, but passes the time well and has a great, brutal HipHop sound to it. Again, though, the ugly question raises its head: does time, and development, just stop after 2001? I blame September the 11th.